Commercial Re-Roofing - Flat Roof Leak Repair
From Storm or Hurricane Damage, Winston Salem NC
Free Same-Day Inspections, We handle Insurance Claims, Licensed, Bonded & Insured, 100% Satisfaction Guaranteed!
Safeguarding your roof against weather conditions can be overwhelming. ChemTech Roof provides solutions for Commercial Reroofing & Flat Roof Leak Repair from Rain, Storm or Hurricane Damage in Winston Salem NC. ChemTech Roofs carry out inspection on roofs and looks for potential leaks, open seams, issues of wind hazards. We are reliable to protect businesses in Winston-Salem NC during stormy winter months. Contact us today if you need re-roofing of your commercial building.
Flat roofs in Winston-Salem NC tend to leak more because the water does not roll off the way it does in pitched roofs - rather, it gathers till it evaporates. When this occurs, the water can easily find weaknesses on the roof surface, which is why it's a good idea to get your roof checked annually for signs of structural compromise.
Commercial Roof Rain Damage
When a storm hits Winston-Salem NC, massive winds can blow and create holes in areas of the roof. They can also tear apart the bottom line. When winds come howling, it can be difficult to determine if your commercial roof has been properly maintained to protect an insurance coverage.


After any rain, it is important to maintain and re-roof commercial roofs early. Inspect the roof for damage, because the strength of the roof can be reduced with repeated rains. Even if after the heavy rain the roof survives, it might have been weakened or damaged enough to collapse during the next rain.
Winds have the capacity to rip off, damage or displace materials used for roofing. Objects contained in the wind can also cause damage to a roof. But winds will easily cause damage to materials in poor condition than those in good condition. Also, the faster the roofing materials of commercial buildings deteriorate, the faster the building will deteriorate.
It doesn't matter if the roof of the commercial building has been properly maintained; hurricanes can blow off the question, as a result have a financial impact on the insurance coverage. A lot of insurance policies for commercial buildings cover the risk of damage and loss, including water, hail, fire, and wind damage. But it is expected that more and more insurance companies in Winston-Salem NC will limit their coverage to deny such benefits. Their biggest defense will be that the damage will have been as a result of poor construction or wear and tear.
It can be hard to prove after a loss as a result of storms that the roof was in good condition before the incident, however, there are maintenance programs that can provide detailed proof that the roof has been properly cared for. Regular inspection ensures that most of the issues are routinely covered. For instance, flashing or holes can be repaired, guttering can be cleaned, and old HVAC equipment can be taken off. These are areas that insurance companies will look for when they don't want to pay a claim. Handling them earlier will reduce the chance that your claim will be reduced or denied.
Commercial Roof Hurricane Damage
It is important to consider some key safety tips for protecting commercial buildings during hurricanes. Hurricanes can cause great damage to the roof, particularly if the building has not been properly maintained. In order to prepare for the worst, there are some hurricane preparedness ideas that can be applied during any hurricane warnings.
What to do before the Hurricane?
First, you need to protect your building from leakages by having a maintenance plan to stick by

Take pictures of your roof before the hurricane so it can assist you during insurance claims

Clear drainage points on the roof so as to prevent water from pooling during the hurricane

Get rid of all loose objects and ensure all equipment on the roof is secured, including flashings and seams

Speak to a roofing company that is trusted beforehand
Inspect the roof for any leaks and protect items that water could damage

Take pictures or record videos of the damage

Speak to your insurance company immediately and make claims because it can take some time before the claims get processed

Avoid general contractors, only work with professional roofing contractors for any repairs

Consider if you should repair or re-roof the commercial building
You might be tempted to trust any contractor to fix the roof damage after a hurricane for a cheap price, or try to repair it yourself. But you might end up hurting your business when you follow either of these routes. An unprofessional contractor can do a poor job and end up leaving you vulnerable. Trying to fix it yourself or applying temporary seals can affect your insurance payout.

It can be stressful handling a hurricane or a huge storm. And it requires some time to correctly fix the roof. It will be best for your business if you try to prepare ahead of time, regularly maintain and always work with a reputable repair company.
Commercial Roof Snow Damage
Don't take for granted the work your roofs perform during the winter. Although you remain indoors during ice storms and snow, the roofs over your commercial building bears the brunt of the cold elements. Accumulation of ice and snow can have great effects on the roof, leading to damage of roofing materials and weakening of the building. It is important to take steps to protect your roof from snow so as to save your organization effort, energy and money.


During winter months, the roofs of commercial buildings are most exposed to temperatures below freezing; this makes them vulnerable to the dangers of snow damage. It is important to note that snow damage is not just limited to predictable cold weather conditions. In fact, weather events such as unusual winter during dry or warm climates can be devastating, because managers of buildings don't pay attention to their roofs for snow accumulation.
Effects of Snow on Commercial Buildings
Surprisingly, snow is versatile in its ability to compromise the design of commercial roofs. The most common effects they present include:
Potential Collapse -

Excessive snow can lead to the collapse of your commercial roof due to their heavy weight. The stress they put buildings through, particularly during colder climates where there could be multiple snowfalls before temperatures can get hot enough to melt them, can be devastating. The heavy weight of snow can cause great strain on the roof and sometimes result to total collapse leading to costly damages.

Weakening of Roofing Materials -

Any kind of moisture can lead to weakened materials. it can widen gaps in joints and seams, buckle and bend flashing, and increase other weaknesses such as membrane cracks.

Freezing and Thawing -

When the snow melts, the water can find its way into smaller areas of the roof, particularly around flashing, curbs, joints, and panel seams - making the roof to move beneath the roofing membrane. When the temperature gets colder also, the water will expand as it turns to ice, causing the gaps to widen and compromise the roof integrity.

Ice Dams

-

As water melts it gets collected at the roof edges, thereby creating an ice dam when it freezes. These ice dams can prevent melts from happening in the future, thereby preventing proper drainage, which can cause stress, pooling, and ice damage on the roof.
Protecting your Building from Snow Damage
Annually inspect for any trouble spots: before every winter, check your commercial roof for any problems that could make it susceptible to damage as a result of snow or ice. Repair all gaps around joints, flashing and seams.
Determine the weight limits of the roof and check for any warming signs of damage: it can be hard to know the weight limit, but there are signs to know if the load is excessive. Inspect your ceiling for any cracks or sagging, and check for bowing in beams and walls. When you notice any depressions on the roof that might be because of a serious damage.
Know the right time to remove snow from the commercial roof: even if you don't notice any structural damage as a result of snow weight, you need to avoid allowing snow accumulate beyond its weight limit. The longer snow accumulates, the more likely it will cause damage. Ensure you remove snow from the roof after long periods of snows or cold temperatures. As you do this, take proper safety precautions and use methods that will not cause harm to the roof.
About ChemTech Roof & Insulation
Since 1981 ChemTech has applied over 20,000,000 sq. ft. ChemTech has been involved with elastomeric coating systems as applied to rejuvenate metal roofs, flat roofs, single-ply rubber and thermoplastic roofs and foam roofs in the Forsyth County area and Piedmont Triad for many years.

We focus on re-roofing for commercial clients. For the finest roofing services in Winston Salem, NC that won't cost a fortune contact us today! Don't wait until it's too late; call our team today for an appointment, a free roof evaluation or free estimate!


CALL US TODAY FOR AN ESTIMATE: (336) 767-4500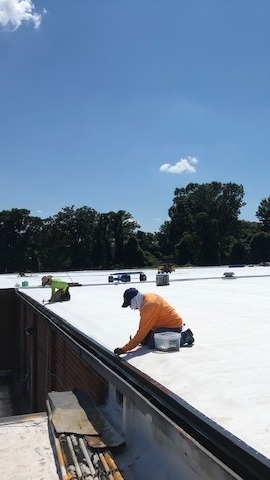 Don't Take Our Word For It - See What Our Clients
Have To Say!

Why Replace Your Roof?
Owners of residential and commercial buildings in Winston-Salem NC need to consider replacing their roofs for a number of reasons.
First of all, it can improve the safety of the building, protecting it from structural compromise and water damage during hurricanes and rainy weathers.

Having commercial flat roof re-roofing can improve the property value, energy efficiency, utility bills and curb appeal of the building.
When to Replace Your Roof
Roofs can age, and that is a major indicator that they should be replaced. Most of them are made to last from 20 to 25 years. The performance of the roof can be compromised and leakage may occur when it gets damaged, and so needs to be replaced. Carry out a commercial roof leak inspection Winston-Salem NC to know when to re-roof. You can determine if your roof is leaking due to the following signs:
Stains and water damage on your walls and ceiling

Appearance of bubbling paint

Water dripping - not from a sink

Mildew on the exterior walls or ceiling
For those having older homes or that notice a leakage in their roofs, it may be time for re-roofing.
Frequently Asked Questions
Should I repair or replace my roof?
Only a thorough inspection can determine the best approach. We will gladly conduct a free appraisal and discuss your options.
How long does a roof replacement take?
The process takes 2-3 days on an average, although it could require more time with some specialty roof types.
What roofing options do you offer?
There are extensive options available from traditional shingles to glass, clay and metallic roofs. Call today to discuss the options for your home or business!
Contact Us Today For A

100% Free Inspection

At (336) 767-4500
Address
ChemTech Roof & Insulation Systems, Inc.
3539 Glenn Avenue
Winston-Salem, North Carolina 27105
Contact
P: (336) 767-4500
Hours
Monday 7:00AM-5PM
Tuesday 7:00AM-5PM
Wednesday 7:00AM-5PM
Thursday 7:00AM-5PM
Friday 7:00AM-5PM
Saturday Closed
Sunday Closed